vertical shaft impact crusher
Usage and application:
VSI, the high efficient Vertical Shaft Impact Crusher is a kind of sand making machine, sand maker.it is preferred choice for artificial sand making or stone reshaping in producing building aggregate, concrete,mining, refractory materials, cement, raw materials quartz sand and other high purity materials.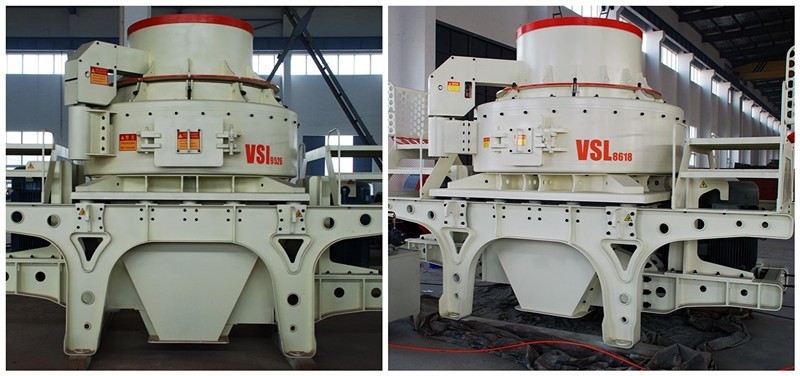 Working principle:
Hard stone materials fall into the crusher and are divided into two parts. One part goes into the high-speed-running impeller of the machine, and the other part goes around the impeller.The two parts materials bump and crush fast during the effect of centrifugal force. Then the materials run like swirl, bump and rub to each other again and again. The finished products go out from the bottom of the machine, and users can get the requested products size after screening by vibrating screen.VSI sand maker adopts central feeding and central cascade feeding way, which can be changed based on customers' needs.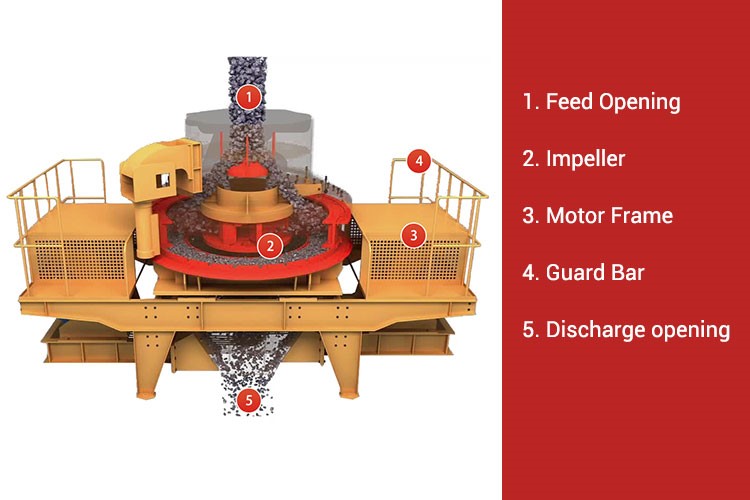 Features:
1. The structure is simple, and the operating cost is low.
2. High efficiency, and low consumption.
3. Sand Making Machine is slightly influenced by the humidity of material, and the max humidity is 8%.
4. VSI Sand Making Machine is more suitable for crushing mid-hardness materials and high-hardness materials.
5. Its product is cubic, and the density of piling up is high and the iron pollution is low.
6. The working noise is less than 75 decibels and dust pollution is little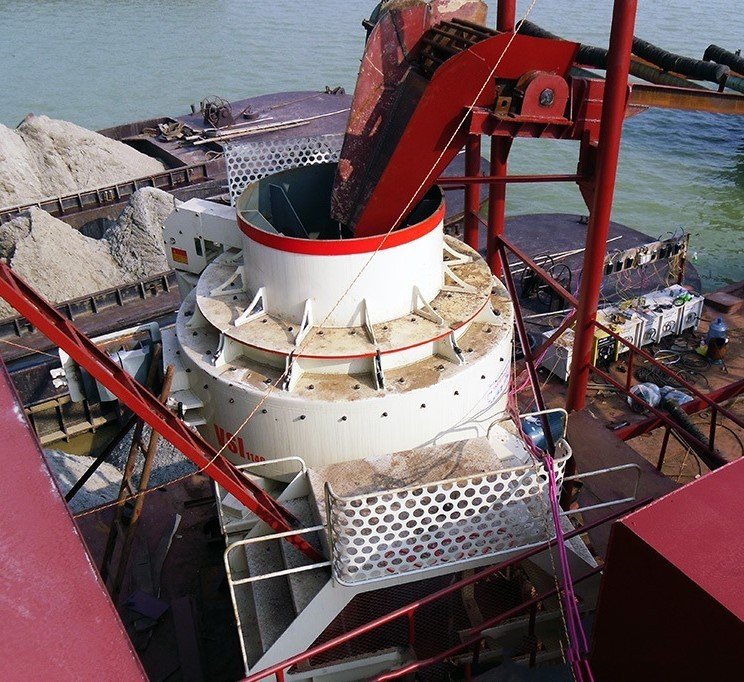 Main technical specifications:
Model

VSI7611

VSI8518

VSI9526

VSI1140

VSI1145

Capacity (T/H)

Center And Ring Feeding

120-180

200-260

300-380

450-520

500-640

Center Feeding

60-90

100-130

150-190

225-260

250-360

Best Feed Size (MM)

Soft Material

35

40

45

50

50

Hard Material

30

35

40

45

45

Rotation Speed (R/MIN)

1700-1890

1520-1690

1360-1510

1180-1310

1200-1390

Power For Double Motor (KW)

110

180

264

400

440

Dimension L×W×H (MM)

3700×2150 ×2100

4140×2280 ×2425

4560×2447 ×2778

5000×2700 ×3300

5100×2790 ×3320

Weight (t)

11.8

14.5

17.8

25.6

26

Power Soppty

380V 50Hz

Vibrating Sensor

Monitering Range:0.1-20MM/S Continuousely Adjustable

Lubrication Hydraulic Station

Dual Oil Bump Motor Power

2×0.25kW

Security Protection

Double Oil Pump Ensure The Normal Oil Supply;Automatic Shut Down If No Oil Pressure;Water Cooling;Motor Preheating In Winter.

Over Dimension L×W×H(mm)

820×520×1270

Oil Tank Heating Power

2KW