impact crusher
Usage and Application
Impact crusher is usually used as medium or fine crushing equipment, which can crush materials with medium or under medium hardness, such as all kinds of ores, rocks, coke, coal and refractory materials in mining, building material, chemical industry, metallurgy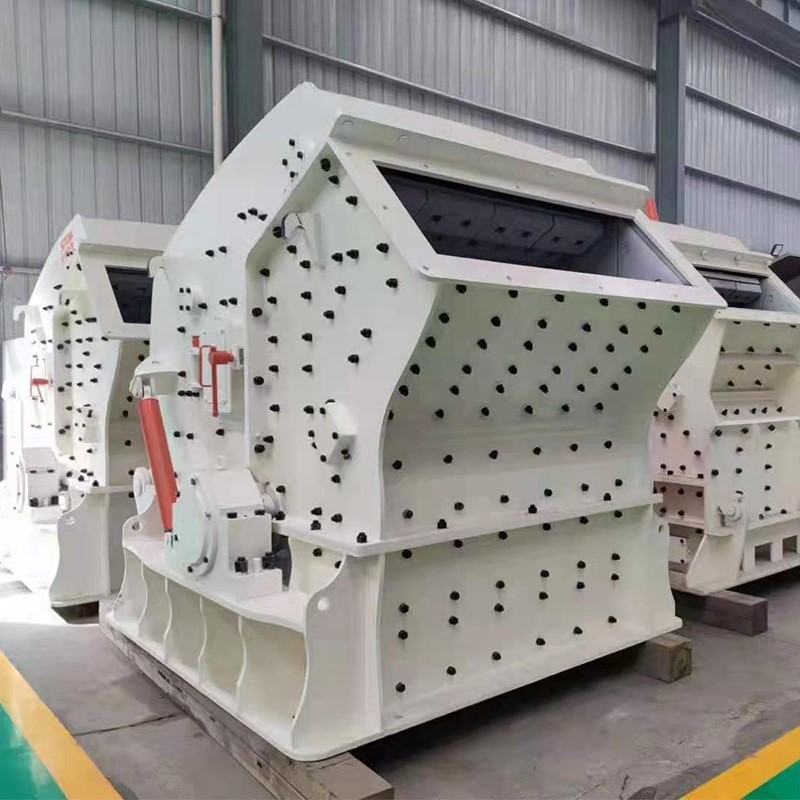 Working Principle
impact crusher is composed of chassis, rotor and impact plate, which is of simple structure. In operating process of impact crushing machine, plate hammer and rotor rotate in high speed and impact with materials; in the repeated impacting process, materials will collide with each other. Due to collision between materials and impact of plate hammer and impact plate, materials generates fissure and dehiscence until they are being crushed. When large materials and materials which are hard to crush are sandwiched between rotor and impact plate, impact plate is suffered from high pressure, thus making impact force backward so as to make materials which are hard to crush go through and prevent rotor from being damaged.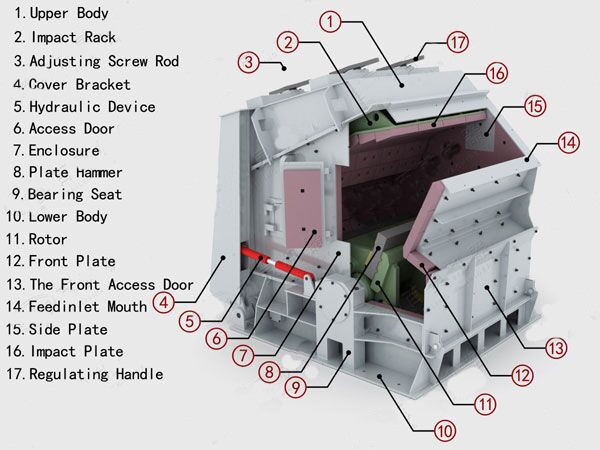 Features
1. Cubic shaped end products;
2. Adjustable end products sizes, simple crushing process;
3. High chrome and abrasion resistant blow bar, powerful impacting force;
4. Non-key connected, easy maintenance, economical and reliable;
5. Compact construction, high efficiency.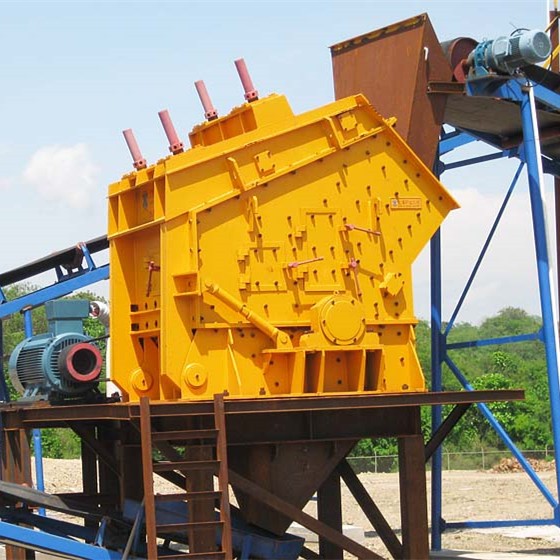 Main technical specifications:
Model

Rotor Spec(mm)

Feed Opening
Size
(mm)

Max Feed
Size
(mm)

Capacity
(t/h)

Motor Power
(kW)

Dimension

(mm)

Weight
(t)

PF-0807

850×700

400×730

300

15-30

30-45

2210×1490×2670

8.1

PF-1007

1000×700

400×730

300

30-50

37-55

2400×1558×2660

9.5

PF-1010

1000×1050

400×1080

350

50-80

55-75

2400×2250×2620

12.2

PF-1210

1250×1050

400×1080

350

70-120

110-132

2690×2338×2890

14.9

PF-1214

1250×1400

400×1430

350

130-180

132-160

2690×2688×2890

18.6

PF-1310

1300×1050

490×1170

400

80-140

110-160

2780×2478×2855

16.2

PF-1315

1320×1500

860×1520

500

160-250

180-260

3096×3273×2667

19.3

PF-1415

1450×1500

1145×1520

950

220-450

220-315

3745×3022×3519

27

PF-1520

1520×2000

830×2050

700

300-550

315-440

3581×3560×3265

36.5