rotary dryer
Usage and application :
The rotary dryer is a type of industrial dryer employed to reduce or minimize the liquid moisture content of the material it is handling with a heated gas. In industry, rotary dryer is often used to dry metal powder, iron concentrate pellets, slag, quartz sand, blue carbon, lignite, fly ash, quartz sand, clay, etc.
Working principle:
The rotary dryer system is mainly composed of a heat supply source, a loading machine, a feeding machine, a rotary drum dryer, a material crushing device, a discharging machine, an induced draft fan, a discharger, and a power distribution cabinet.
The lifting plates which are arranged reasonably with changeable angles in order, throws moisture materials into the rotary cylinder. Then water will be separated from the materials by hot air-flow and changed into vapour to be discharged into the atmosphere. Then the materials would be dryed.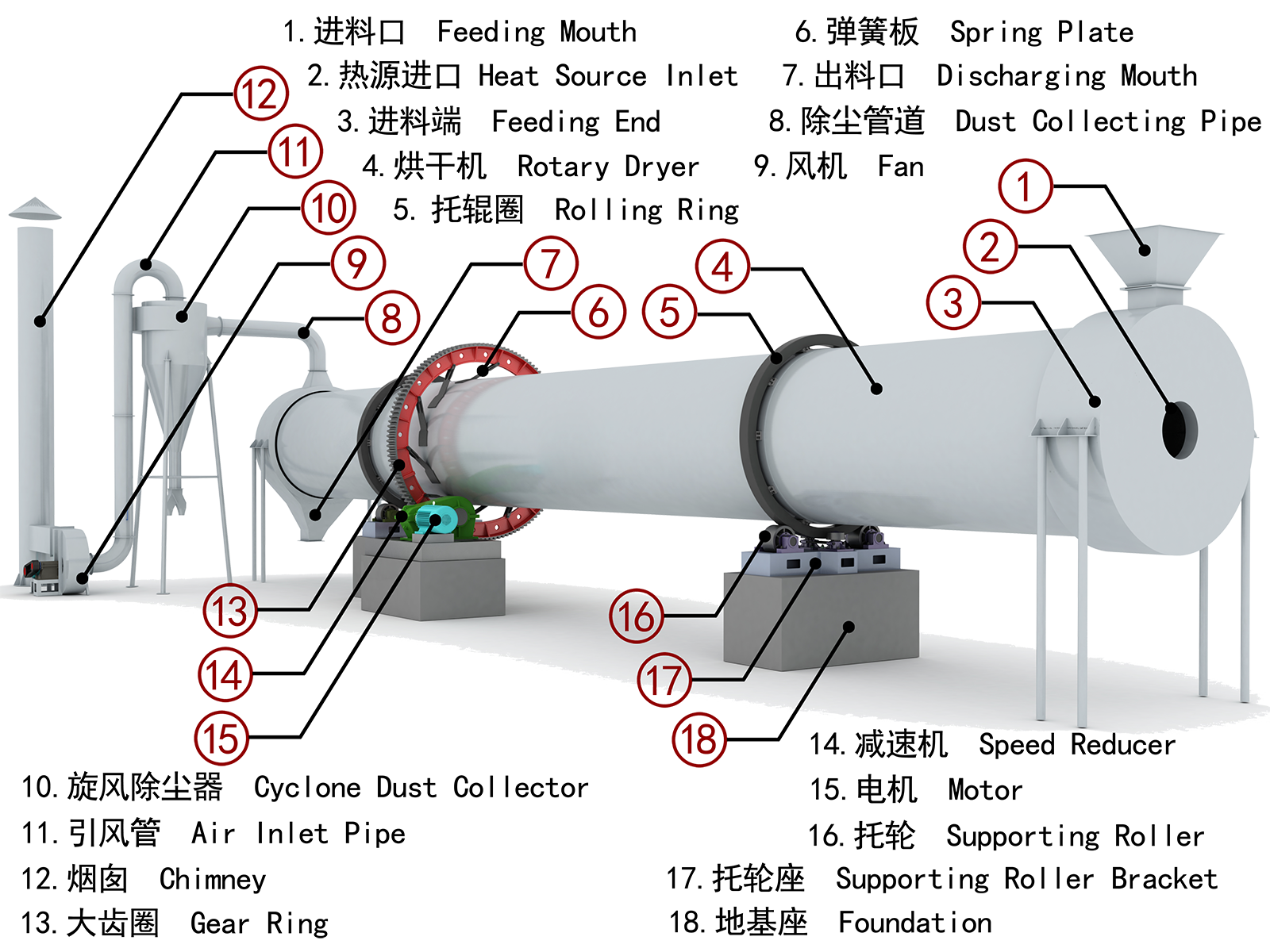 Features:
1. Shell adopts assembled structure, and its precision has been improved a lot, which will be convenient for transport.
2. According to different fuel properties, suuitable lifters will be used. This can make material receive more heat exchange.
3. Sealing is simple but efficient, which can improve capacity and improve whole machine performance.
4. Its matching combustion furnance is energy-saving type, which takes small area and is easy to adjuest.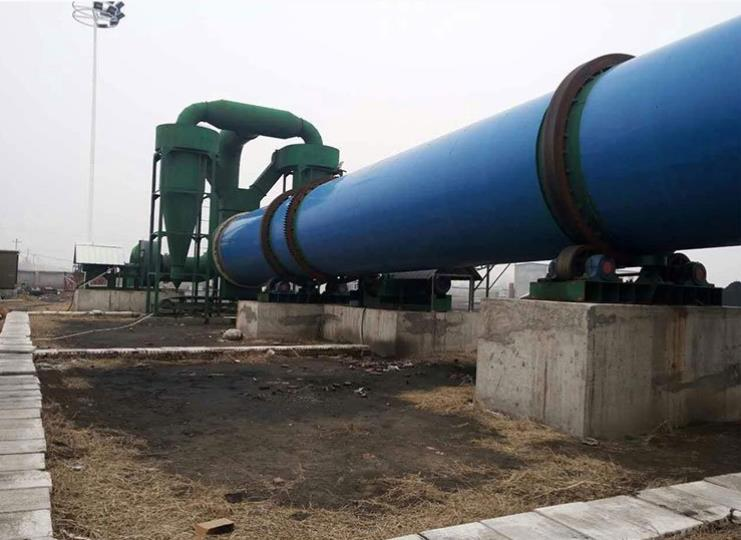 Technical specifications:
Product specifications (m)

Production capacity (t/h)

Motor

Reducer

Weight (t)

Model

Power(kw)

Model

Ratio

Ф1×10

1.0-3.5

Y132M2-6

5.5

ZL350-Ⅱ-25

7.5

Ф1.2×10

2.5

Y160M-6

7.5

ZL50-16-1

13.5

Ф1.5×12

3.3-4.9

180L-6

15

JZQ500-Ⅲ-2F

18.9

Ф1.5×15

4-6

Y200L-6

18.5

JZQ650-Ⅲ-2F

21

Ф1.8×12

4-6

Y160L-6

18.5

ZQ50-16Ⅱ-2

16.46

22.83

Ф2.2×12

7-12

Y200L-6

22

JZQ650-Ⅲ

31.5

37.6

Ф2.2×14

7-12

Y200L-6

22

JZQ650-Ⅲ

31.5

40

Ф2.2×16

12

Y225M-6

22

JZQ750-Ⅲ

31.5

45

Ф2.4×14

12

Y250M-6

37

31.5

51

Ф2.4×18

10-13

Y250M-6

37

ZL85-13-1

27.16

54

Ф2.4×20

10-14

Y250M-6

37

ZL85-13-1

27.16

54.14

Ф3×20

25

Y280M-6

55

ZL100-16-1

41.52

78

Ф3×25

32-36

YR280M-4

75

ZL100-16-1

41.52

104.9