Dry ball mill
Usage and application :
Dry ball mill is the key milling equipment after materials has been crushed. It is widely used in Cement, silicate, new
construction material, refractory material, ferrous metal and nonferrous Metal as well as ceramics.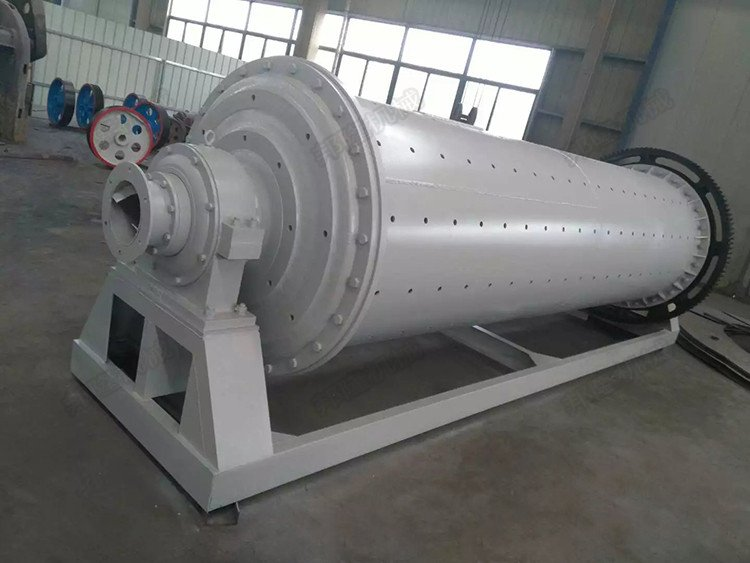 Working principle :
The ball mill is a horizontal rotating device transmitted by the outer gear. The materials are transferred to the grinding chamber through the quill shaft uniformly. There are ladder liner and ripple liner and different specifications of steel balls in the chamber. The centrifugal force caused by rotation of barrel brings the steel balls to a certain height and impact and grind the materials. The ground materials are discharged through the discharging board thus the grinding process is finished.
Features:
1. High-efficiency. Our ball mill adopts rolling bearing support instead of sliding bearing support with bearing bush. Therefore, it can save energy by 10-20%.
2. Simple structure, easy maintenance. Ball mill is mainly composed of feeding part, discharging part, turning part and driving part (reducer, small driving gear, electric motor and electric control). Convenient installation and debugging , easy to operate.
3. High processing capacity,obvious continuous operation advantages. The capacity can get 4.6-260 t/h.
4. Wide-range usage. Ball mill as an old grinding equipment in market, the technology is mature and operated steadily.
Technical specifications:
Model

Shell rotation speed

(r/min)

Ball load

(t)

Feeding size

(mm)

Discharging size

(mm)

Capacity

Motor
power

(kw)

Weight

(t)

(t/h)

Φ900*1800

36-38

1.5

<=20

0.075-0.89

0.65-2

18.5

4.6

Φ900*3000

36

2.7

<=20

0.075-0.89

1.1-3.5

22

5.6

Φ1200*2400

36

3

<=25

0.075-0.6

1.5-4.8

30

12

Φ1200*3000

36

3.5

<=25

0.074-0.4

1.6-5

37

12.8

Φ1200*4500

32.4

5

<=25

0.074-0.4

1.6-5.8

55

13.8

Φ1500*3000

29.7

7.5

<=25

0.074-0.4

2-5

75

15.6

Φ1500*4500

27

11

<=25

0.074-0.4

3-6

110

21

Φ1500*5700

28

12

<=25

0.074-0.4

3.5-6

130

24.7

Φ1830*3000

25.4

11

<=25

0.074-0.4

4-10

130

28

Φ1830*4500

25.4

15

<=25

0.074-0.4

4.5-12

155

32

Φ1830*6400

24.1

21

<=25

0.074-0.4

6.5-15

210

34

Φ1830*7000

24.1

23

<=25

0.074-0.4

7.5-17

245

36

Φ2100*3000

23.7

15

<=25

0.074-0.4

6.5-36

155

34

Φ2100*4500

23.7

24

<=25

0.074-0.4

8-43

245

42

Φ2100*7000

23.7

26

<=25

0.074-0.4

8-48

280

50

Φ2200*4500

21.5

27

<=25

0.074-0.4

9-45

280

48.5

Φ2200*6500

21.7

35

<=25

0.074-0.4

14-26

380

52.8

Φ2200*7000

21.7

35

<=25

0.074-0.4

15-28

380

54

Φ2200*7500

21.7

35

<=25

0.074-0.4

15-30

380

56

Φ2400*3000

21

23

<=25

0.074-0.4

7-50

245

54

Φ2400*4500

21

30

<=25

0.074-0.4

8.5-60

320

65

Φ2700*4000

20.7

40

<=25

0.074-0.4

12-80

400

94

Φ2700*4500

20.7

48

<=25

0.074-0.4

12-90

430

102

Φ3200*4500

18

65

<=25

0.074-0.4

-----

800

137