MTW Trapezium grinding mill
Usage and application:
MTW grinding mill --- the latest type of Raymond Mill, has become one of the most advanced grinding mills in the world with its so many intellectual properties like bear-gear drive, inner oil lubricating system, arc air channel, etc. It is widely used in cement, coal , power plant desulfurization, metallurgy, chemical industry, non-metallic mineral, construction material, ceramics, etc.. It can process the material such as limestone, calcite, barite, dolomite, potassium feldspar, bentonite, medical stone, rock phosphate, manganese ore, iron ore, quartz, active carbon, carbon black, ceramic, coal, etc..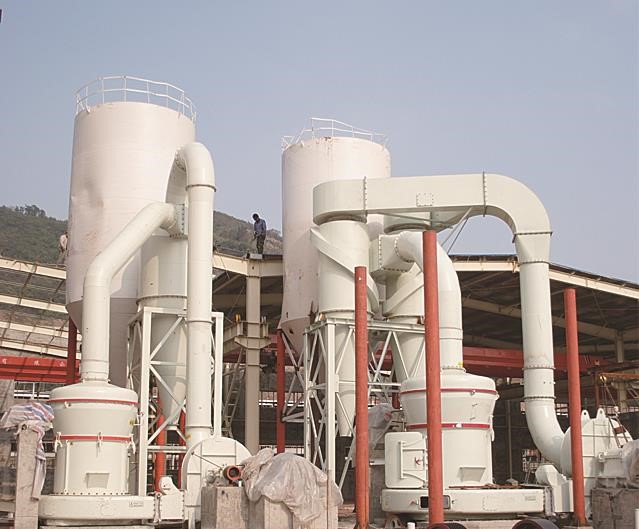 Working principle:
When entering grinding chamber, the raw materials are shoveled up by the shovels and grinded between the rollers and ring; the materials after grinding are brought into the separator along with the air from the blower, and the qualified fine powder became final products and come into the cyclone powder collector, the other unqualified powder fall down to be re-grinded. The circular air returns back to the blower that the above process will be repeated, and the remaining air enters the bag filter in order to protect the environment. The system consists of grinding mill, separator, air blower, jaw crusher, vibrating feeder, hopper, dust collector, pipe, powder collector, electric cabinet, motors, etc.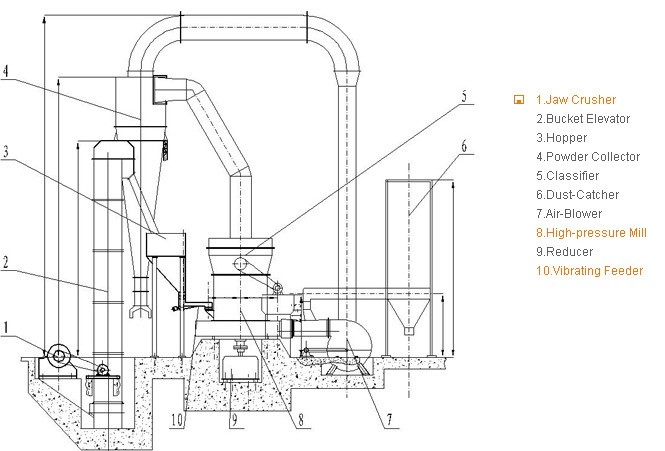 Features:
1. Compared with other mills, its capacity increases by 10%-20% under the same power condition, and compression force of rollers to material improve 800-1200kgf under the force of high-pressure spring.
2. Size of final product can be 0.613mm (30mesh) –0.033mm (425mesh). Some can reach the fineness of 0.013mm (1000 mesh).
3. High Pressure Suspension Mill meets the requirement of national dust-dump standard.
4. The separator can be adjusted very easily.
5. The multi-class seals are adopted to keep the grinding equipment tightly closed.
Technical specifications:
| | | | | |
| --- | --- | --- | --- | --- |
| Model Specification Name | MTW110 | MTW138 | MTW175 | MTW215 |
| Quantity of roller (PCS) | 4 | 4 | 5 | 5 |
| Inner diameter of ring (mm) | Ф1100 | Ф1380 | Ф1750 | Ф2150 |
| Main shaft speed (rpm) | 980 | 990 | 740 | 740 |
| Max. Feeding size(mm) | 30 | 35 | 40 | 50 |
| Output fineness(mm) | 1.6~0.045 The fineness is 0.038 | 1.6~0.045 The fineness is 0.038 | 1.6~0.045 The fineness is 0.038 | 1.6~0.075 |
| Capacity(tph) | 3.5~10 | 6.5~15 | 11~22 | 30-45 |
| Dimension(L×W×H)(mm) | 8425×5041×8642 | 11050×10010×10010 | 12850×10080×9980 | 14730×10860×10341 |
| Weight(t) | 18 | 28.5 | 38 | 92 |
Model

Main mill(KW)

Classifier (KW)

Blower(KW)

Bucket elevator(KW)

Jaw crusher hammer crusher

Feeder

Model

Power(KW)

Model

Power(W)

MTW110

55

7.5

55

3

PE250×400

15

GZ2F

0.15

MTW138

90

22

110

4

PE250×400

15

GZ3F

0.2

MTW175

160

37

200

4

PE250×750

22

GZ4F

0.45

MTW215

280

90

315

11

PC1010

110

GZ5F

0.65