ceramsite sand rotary kiln
Usage and applicatioin :
The increasing demand for petroleum fracturing proppant products promotes the continuous development of the ceramsite sand industry, and the rotary kiln is the key equipment for calcining ceramsite sand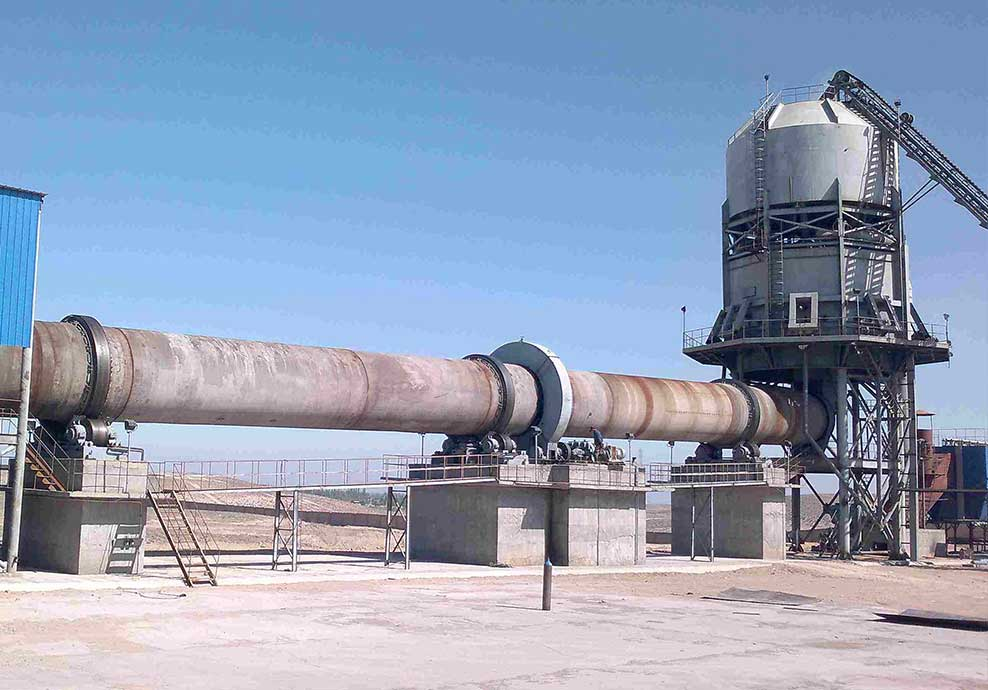 Working principle:
The bauxite with a particle size of 300 to 500 mm is crushed and sent to a fluidizing furnace dryer for drying. Then, it passes through the batching station with manganese powder and additives, and enters the grinding system with a vortex separator to prepare fine particles. For raw meal powder with a degree of 400 mesh or more, add water to make the raw meal powder into pellets with a qualified particle size. The pellets enter the dryer at the end of the kiln, use the waste heat of the exhaust gas from the kiln tail to reduce the moisture of the pellets, and then enter the rotary kiln for calcination after screening. The calcined ceramsite sand is cooled by a single cooler and then sieved through a cylindrical sieve. The qualified different particle sizes are packaged separately and then shipped out, and the unqualified pellets are returned to the grinding system.
Features:
Rotary kiln drive adopts frequency conversion speed regulation, high efficiency and low power consumption
Low fuel consumption per unit product and large production capacity
Negative pressure operation, low dust pollution
Stable mechanical performance, smooth transmission, easy control of calcination temperature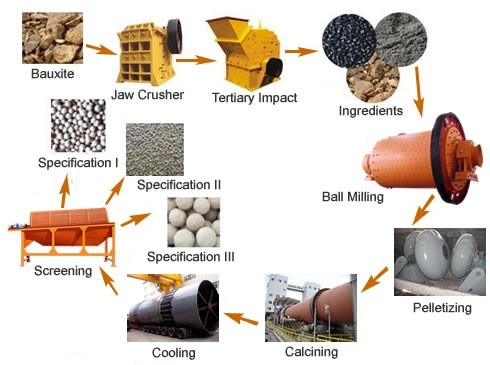 Technical specifications
:Specificatios Model
(mm)

The size of the kiln

Yield
(t/h)

Speed
(r/min)

Electrical power (kw)

Weight
(t)

Remarks

Diameter
(mm)

Length
(mm)

Gradient
(%)

φ1.4×33

1.4

33

3

0.9-1.3

0.39-3.96

18.5

47.5

----

φ1.6×36

1.6

36

4

1.2-1.9

0.26-2.63

22

52

----

φ1.8×45

1.8

45

4

1.9-2.4

0.16-1.62

30

78.2

----

φ1.9×39

1.9

39

4

1.65-3

0.29-2.93

30

77.59

----

φ2.0×40

2

40

3

2.5-4

0.23-2.26

37

119.1

----

φ2.2×45

2.2

45

3.5

3.4-5.4

0.21-2.44

45

128.3

----

φ2.5×40

2.5

40

3.5

9.0-10.5

0.44-2.44

55

149.61

----

φ2.5×50

2.5

50

3

6.25-7.4

0.62-1.86

55

187.37

----

φ2.5×54

2.5

54

3.5

6.9-8.5

0.48-1.45

55

196.29

----

φ2.7×42

2.7

42

3.5

10.0-11.0

0.10-1.52

55

198.5

----

φ2.8×44

2.8

44

3.5

12.5-13.5

0.437-2.18

55

201.58

Suspension preheater kiln

φ3.0×45

3

45

3.5

12.8-14.5

0.5-2.47

75

210.94

----

φ3.0×48

3

48

3.5

25.6-29.3

0.6-3.48

100

237

The kiln, kiln

φ3.0×60

3

60

3.5

12.3-14.1

0.3-2

100

310

----

φ3.2×50

3.2

50

4

40.5-42

0.6-3

125

278

The kiln, kiln