rotary kiln
Usage and applicatioin :
Rotary kiln is generally called rotary calcining kiln .Rotary kiln is a pyroprocessing device used to raise materials to a high temperature (calcination) in a continuous process. Materials produced using rotary kilns include:Cement, Lime, Refractories,Metakaolin, Titanium dioxide, Alumina, Vermiculite, Iron ore pellets They are also used for roasting a wide variety of sulfide ores prior to metal extraction.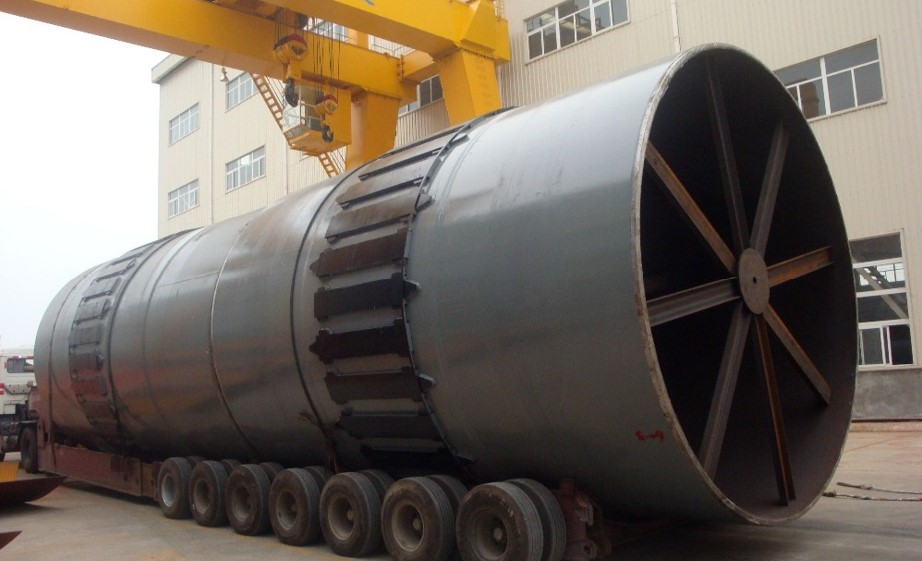 Working principle:
The rotary kiln is composed of barrel, supporting device, catch wheel supporting device, transmission device, movable kiln head, kiln tail sealing device, and coal injection pipe device.The kiln is a cylindrical vessel, inclined slightly to the horizontal, which is rotated slowly about its axis. The material will be calcined in the shell after feeding at the head of the kiln. The fuel will be spurted from the kiln tail and start burning. The hot air from the end blow into the kiln directly impacting the raw materials. And then will be turned over along the direction of circle and mixing from the high-end to low-end along the axial because of the shell's slope and low speed rotation. The material will be calcined into the clinker after discomposition, calcination and cooling process. So they will discharge from the low-end.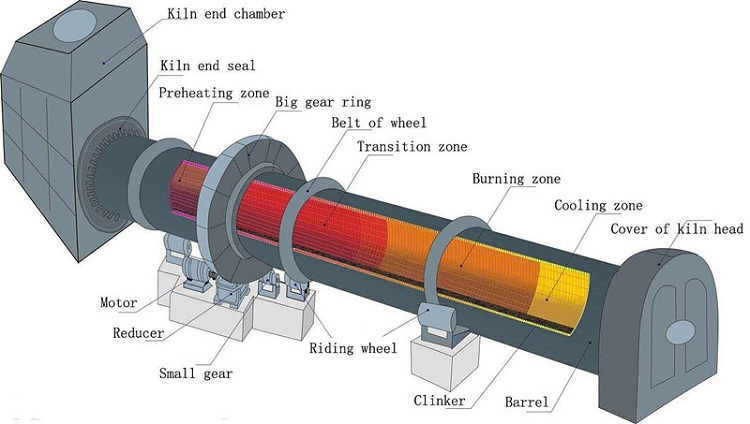 Features:
1. Advanced structure, good sealing, the kiln head is sealed by the shell, and the kiln tail adopts the axial contact seal which ensures the sealing is reliable.
2. Easy to install and maintain; large kiln equipped with the auxiliary drive to meet the needs of installation and maintenance.
3. The rotary kiln with large unit volume, long furnace life, stable operation, high heat transfer efficiency, and low heat consumption.
4. The rotary kilns offer a robust and reliable design that delivers the benefits of low resource consumption and high operational reliability.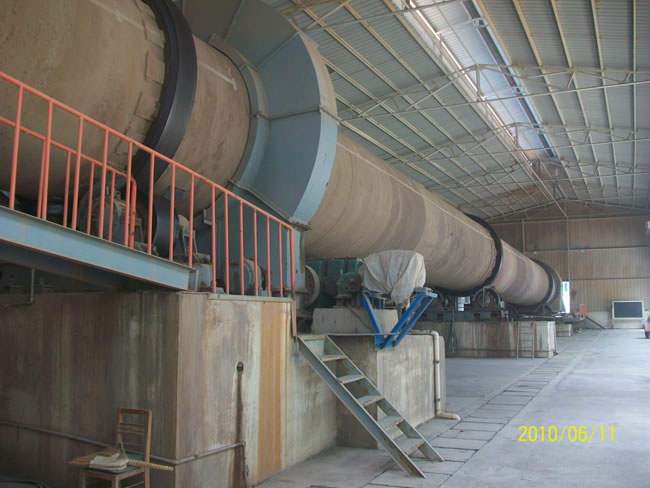 Technical specifications:
:Specificatios Model
(mm)

The size of the kiln

Yield
(t/h)

Speed
(r/min)

Electrical power (kw)

Weight
(t)

Remarks

Diameter
(mm)

Length
(mm)

Gradient
(%)

φ1.4×33

1.4

33

3

0.9-1.3

0.39-3.96

18.5

47.5

----

φ1.6×36

1.6

36

4

1.2-1.9

0.26-2.63

22

52

----

φ1.8×45

1.8

45

4

1.9-2.4

0.16-1.62

30

78.2

----

φ1.9×39

1.9

39

4

1.65-3

0.29-2.93

30

77.59

----

φ2.0×40

2

40

3

2.5-4

0.23-2.26

37

119.1

----

φ2.2×45

2.2

45

3.5

3.4-5.4

0.21-2.44

45

128.3

----

φ2.5×40

2.5

40

3.5

9.0-10.5

0.44-2.44

55

149.61

----

φ2.5×50

2.5

50

3

6.25-7.4

0.62-1.86

55

187.37

----

φ2.5×54

2.5

54

3.5

6.9-8.5

0.48-1.45

55

196.29

----

φ2.7×42

2.7

42

3.5

10.0-11.0

0.10-1.52

55

198.5

----

φ2.8×44

2.8

44

3.5

12.5-13.5

0.437-2.18

55

201.58

Suspension preheater kiln

φ3.0×45

3

45

3.5

12.8-14.5

0.5-2.47

75

210.94

----

φ3.0×48

3

48

3.5

25.6-29.3

0.6-3.48

100

237

The kiln, kiln

φ3.0×60

3

60

3.5

12.3-14.1

0.3-2

100

310

----

φ3.2×50

3.2

50

4

40.5-42

0.6-3

125

278