dry powder briquette press machine
Usage and application:
High-pressure dry powder briquetting machine is a kind of pelletizing machine which can feed various kinds of dry and wet powder through the preliminary pressure device compulsorily into the roll press area and make into high bulk density ball. It is mainly applied in the coal, mining, metallurgy, fire-resistant materials, construction materials and other light metal industries.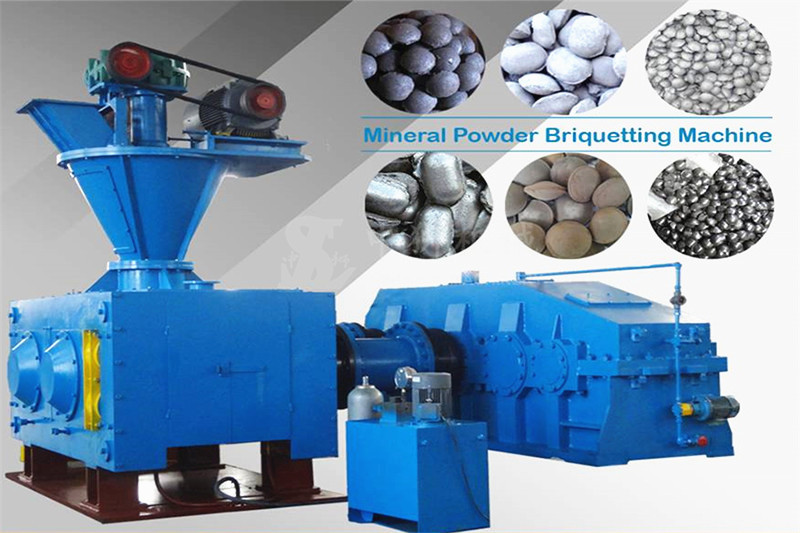 Working principle:
Dry powder briquetting machine consists of three parts,namely feeding part,drive part and briquette molding part (main body)
Feeding Part
The feeding part is mainly used to achieve ration feeding so as to ensure that the materials can be fed into the rollers uniformly.Specifically,the screw feeder,driven by electromagnetic speed adjustable motor,presses materials into the main feeding port compulsively by means of the belt pulley and worm reducer.Owing to constant torque,the motor can keep constant feeding pressure,ensuring stable briquette quality.
Drive Part
The main drive system of the briquetting machine is composed of motor,triangle belt,reducer,exposed gear and rollers.The power generated by the electromagnetic speed-adjustable motor transmits to the driving shaft through belt pulley,reducer and coupler,and the driving shaft will turn synchronously with the driven shaft by the exposed gear.
Briquette Molding Part
The core of the briquette molding part is the rollers.Through rollers,the raw materials can be compressed into briquettes with various shapes.In addition, the rollers feature overload protection,hence keeping sound quality.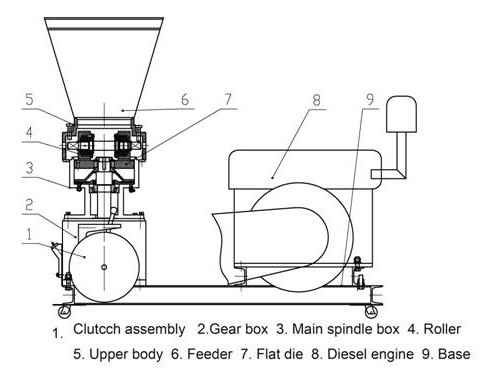 Features:
Raw materials can be pressed well with high ratio of briquetting and high strength of pressed briquettes; Better application result of roller surface, longer service life; Adopting the structure of dual-output shaft reducer, improving the roller precision, using hard surface gear to improve the working performance and service life; Pre-pressing adopts the speed-adjusting motor; all wear-out parts are welded with wearing-resistance alloy to improve working performance and service life;
Hydraulic part is placed independently with the function of pressure-adjusting and protective function when overloading.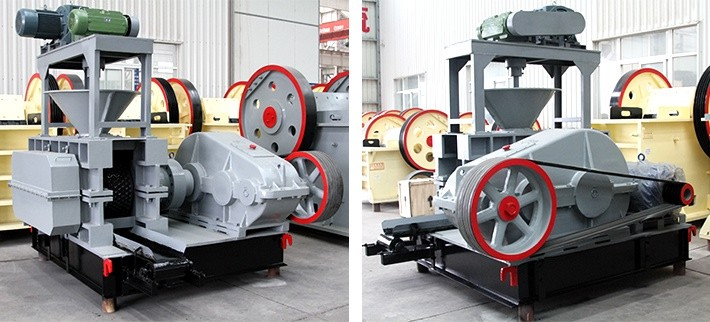 Technical specifications:
Model

Roller dia.

(mm)

Roller

width (mm)

Total pressure

(t)

Max. line specific pressure (t/cm)

Main motor power (kw)

Capacity (t/h)

Weight(t)

GY520-150

520

196

150

8

55

2.2-3.5

13.7

GY650-220

650

205

220

11

90

4-6.5

19.2

GY750-200

750

320

200

6

110

7-10

24.5

GY750-300

750

280

300

11

185

6-8.5

34

GY800-380

800

350

380

11

200

8-10

39.3

GY1000-350

1000

460

350

8

250

10-15

50

GY1000-450

1000

500

450

9

280

14-17

58.5

GY1000-500

1000

500

500

10

280

15-20

58.5

GY1000-500

1000

900

500

5

280

25-30

63

GY1000-540

1000

900

540

6

185×2

30-35

59.3

GY1200-800

1200

900

800

8

280×2

40

110

GY1400-1000

1400

1000

1000

10

355×2

50

156