Ball mill
Usage and application:
Ball mill is the key equipment for grinding after the crushing process in the beneficiation plant, it is used to grind kinds of materials such as copper ore, gold ore, magnetite ore, quartz, lead zinc ore and other materials into fine powder 20-75micrometer. Based on discharging type, It could be grate type,overflow type etc. What's more, the ball mill can be used for the dry and wet grinding for all kinds of ores and other grind-able materials.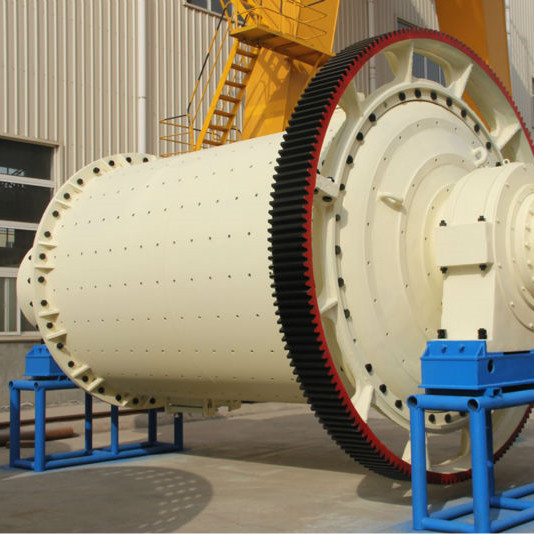 Working principle:
The ball mill is a homitted by the outer gear. The materials are transferred to the grinding chamber through the quill shaft uniformly. There are ladder liner and ripple liner and different specifications of steel balls in the chamber. The centrifugal force caused by rotation of barrel brings the steel balls to a certain height and impact and grind the materials. The ground materials are discharged through the discharging board thus the grinding process is finished.
Features:
1. The lining can be replaced.
2. Wide-range usage. Ball mill as an old grinding equipment in market, the technology is mature and operated steadily.
3.Two ways of grinding: the dry way and the wet way.
4. High-efficiency. Our ball mill adopts rolling bearing support instead of sliding bearing support with bearing bush. Therefore, it can save energy by 10-20%.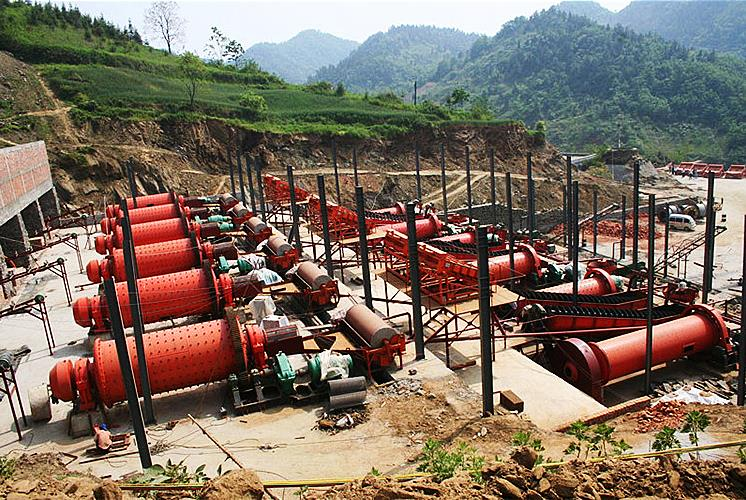 Main technical parameters:
Model

Feeding size
(mm)

Discharging size
(mm)

Capacity
(t)

Motor power
(kw)

Total Weight
(t)

φ 900×1800

≤20

0.075-0.89

0.65-2

18.5

5.8

φ 900×3000

≤20

0.075-0.89

1.1-3.5

22

6.8

φ 1200×2400

≤25

0.075-0.6

1.5-4.8

30

12

φ 1200×3000

≤25

0.074-0.4

1.6-5

37

13.2

φ 1200×4500

≤25

0.074-0.4

1.6-5.8

55

13.7

φ 1500×3000

≤25

0.074-0.4

2-5

75

16.5

φ 1500×4500

≤25

0.074-0.4

3-6

110

21

φ 1500×5700

≤25

0.074-0.4

3.5-6

130

24.7

φ 1830×3000

≤25

0.074-0.4

4-10

130

34.5

φ 1830×4500

≤25

0.074-0.4

4.5-12

155

38

φ 1830×6400

≤25

0.074-0.4

6.5-15

210

46

φ 1830×7000

≤25

0.074-0.4

7.5-17

245

49

φ 2100×3000

≤25

0.074-0.4

6.5-36

155

48

φ 2100×4500

≤25

0.074-0.4

8-43

245

59

φ 2100×7000

≤25

0.074-0.4

8-48

280

67.5

φ 2200×4500

≤25

0.074-0.4

9-45

280

58

φ 2200×6500

≤25

0.074-0.4

14-26

380

63

φ 2200×7000

≤25

0.074-0.4

15-28

380

65.3

φ 2200×7500

≤25

0.074-0.4

15-30

380

66.5

φ 2400×3000

≤25

0.074-0.4

7-50

245

65

φ 2400×4500

≤25

0.074-0.4

8.5-60

320

70

φ 2700×4000

≤25

0.074-0.4

12-80

400

92

φ 2700×4500

≤25

0.074-0.4

12-90

430

102

φ 3200×4500

≤25

0.074-0.4

Determined by the technological process

600

137

φ 3600×4500

≤25

0.074-0.4

Determined by the technological process

850

158

φ3600×6000

≤25

0.074-0.4

Determined by the technological process

1250

175