spiral classifier
Usage and application :
The spiral classifier is important beneficiation equipment in mineral processing. According to the number of spirals, the spiral classifier can be divided into a single spiral classifier and a double spiral classifier. Spiral classifier is widely used for separating the sand in the ore beneficiation plant to equip with ball mill to form a closed cycle, for classifying ore sand and fine silt in the gravity separation plant, for the granularity classification of the pulp in the metal ore beneficiation flow and for removing the slime and water in the ore washing process.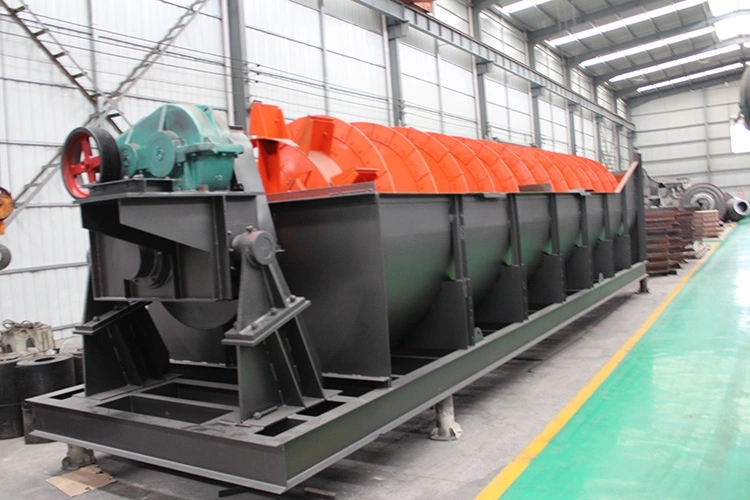 Working principle:
Classifier is mainly composed of rotating device, helix, tank, lifting mechanism, lower support (bearing) and ore discharge valve.When working, classifier is based on the principle that the size of solid particles is different, the specific gravity is different, and the settling speed in the miscellany liquid is different, and the fine ore particles float in the water into overflow Coarse ore sinks to the bottom of the tank.
The pulp from the tank side of the central inlet into the U-shaped groove, with the spiral of low speed rotation and continuous stirring pulp, so that most of the light and fine particles suspended in the above, overflow weir overflow, known as overflow products;The coarse and heavy particles will settle with the bottom of the chute, and are pushed to the top of the chute by the spiral blade and discharged, and the dehydration will be completed in the conveying process at the same time.If the settling sand enters the grinding mill through the chute, the settling sand enters the grinding mill is returned sand.
Features:
1. Simple structure and wide range of use.
2. Using frequency control technology, efficient and environmentally friendly.
3. Low speed, high production efficiency.
4. Advanced technology, simple process.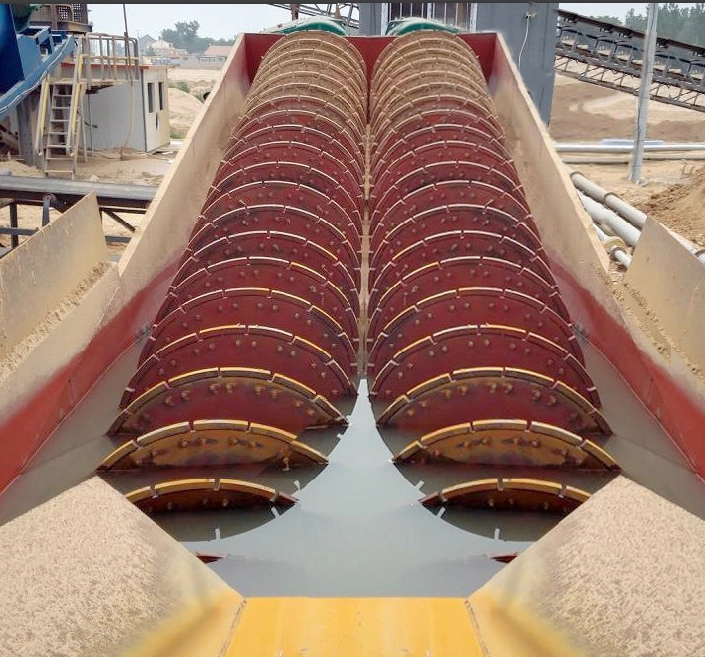 Main technical specifications:
Model

Spiral dia

(mm)

Water tank length (mm)

Spiral rpm

(r/min)

capatity(t/d)

Motor power (kw)

Overall dimensions (mm≤)

Total weight (t)

return sand

Overflow

Drive

lift

L

W

H

FG-5

500

4500

8-12.5

135-210

32

1.1

----

5430

680

1480

1.9

FG-7

750

5500

6-10

340-570

65

3

----

6720

980

1820

3.1

FG-10

1000

6500

5-8

675-1080

110

5.5

----

7590

1240

2380

4.9

FC-10

8400

675-1080

85

7.5

----

9600

1240

2680

6.2

FG-12

1200

6500

4-6

1170-1870

155

7.5

2.2

8180

1570

3110

8.5

FC-12

8400

1170-1870

120

7.5

2.2

10370

1540

3920

11.0

2FG-12

6500

2340-3740

310

15

4.4

8230

2790

3110

15.8

2FC-12

8400

2340-3740

240

15

4.4

10370

2790

3920

17.6

FG-15

1500

8300

4-6

1830-2740

235

7.5

2.2

10410

1880

4080

12.5

FC-15

10500

1830-2740

185

7.5

2.2

12670

1820

4890

16.8

2FG-15

8300

2280-5480

470

15

4.4

10410

3390

4080

22.1

2FC-15

10500

2280-5480

370

15

4.4

12670

3370

4890

30.7

FG-20

2000

8400

3.6-5.5

3290-5940

400

11-15

3

10790

2530

4490

20.5

FC-20

12900

3210-5940

320

11-15

3

15610

2530

5340

28.5

2FG-20

8400

7780-11880

800

22-30

6

11000

4600

4490

35.5

2FC-20

12900

7780-11880

640

22-30

6

15760

4600

5640

48.7

FG-24

2400

9130

3.67

6800

580

15

3

11650

2910

4970

26.8

FC-24

14130

6800

490

18.5

4

16580

2930

7190

41.0

2FG-24

9130

13600

1160

30

6

12710

5430

5690

45.8

2FC-24

14130

13700

910

37

8

17710

5430

8000

67.9

2FG-30

3000

12500

3.2

23300

1785

40

8

16020

6640

6350

73.0

2FC-30

14300

23300

1410

----

----

17091

----

8680

84.8