wet pan mill
Usage and applicatioon:
Wet pan mill is mainly used for separation of gold, silver, lead, zinc, molybdenum, iron, copper, antimony, tungsten, tin and other minerals selected. With less investment, fast results, small footprint saving power, sturdiness and durability, ease of maintenance and high return on investment. It is the preferred production for alternative ball mill, is ideal for small and medium enterprises dressing, and high yield, low production cost, low power, and good benefits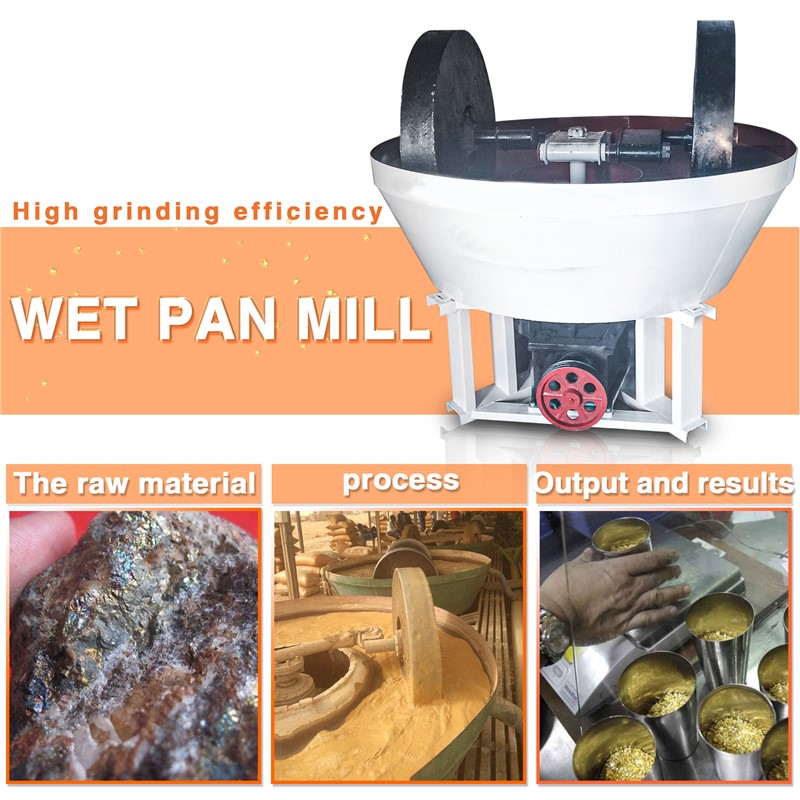 Working principle:
This equipment adopts the working mode of wheel-driven grinding: firstly, the motor drives the power to the reducer, and under the drive of the reducer, the torque is transferred to the horizontal shaft abovethrough the big vertical shaft, and then the torque is transferred to the roller through the pull rod installed on both ends of the horizontal shaft, so that the roller generates driving force and rotates counterclockwise along the horizontal axis.The roller can rotate around the big vertical axis of the wet roller and rotate around the center axis of the roller.The added mineral material is crushed thoroughly after repeated extrusion, kneading and grinding by the extrusion pressure brought by the weight of the roller itself and the huge friction generated by the roller during its revolution and rotation.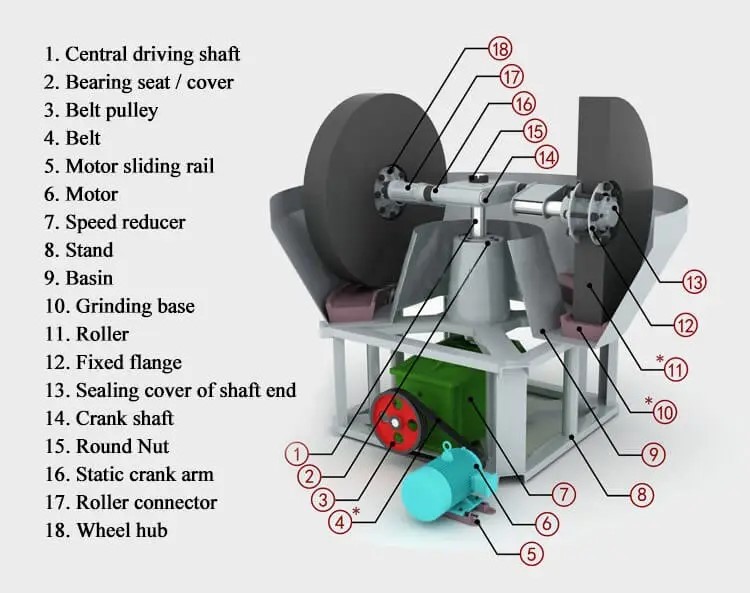 Feature:
1.Small investment,high output.
2.Easy installation and maintenance.
3.Good effifiency.
4.The roller is wearproof.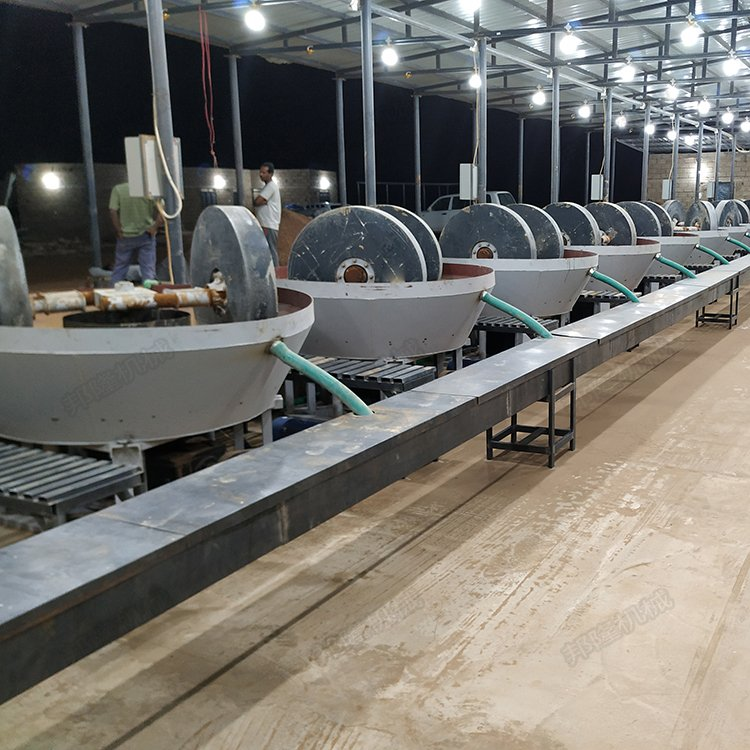 Technical specifications:
| | | | | | | |
| --- | --- | --- | --- | --- | --- | --- |
| Model | Specifications | Input size | Rotate speed | Capacity | Power | Machine weight |
| 1600A | 1600×400/2100×500*180±20mm | <30mm | 18-20 | 5-6T/H | 37KW | 16.3 |
| 1500A | 1500×400/2100×500*180±20mm | <30mm | 18-22 | 4-5T/H | 30KW | 13.5 |
| 1500B | 1500×350/2050×450*150±20mm | <30mm | 18-22 | 4-5T/H | 22KW | 12.3 |
| 1500C | 1500×300/2050×400*150±20mm | <30mm | 18-22 | 4-4.5T/H | 22KW | 11.3 |
| 1400B | 1400×250/2050×350*150±20mm | <30mm | 18-22 | 3-4T/H | 15kw | 8.5 |
| 1400A | 1400×300/2050×400×150±20mm | <30mm | 18-21 | 3-4T/H | 18.5kw | 9.6 |
| 1300B | 1300×250/2000×350×150±20mm | <30mm | 18-22 | 2.5-3.5T/H | 11kw | 7.5 |
| 900A | 900×170/1700×220×45±10mm | <30mm | 11-13 | 0.1-0.5T/H | 3kw | 2.9 |
| 900B | 900×140/1700×170×45±10mm | <30mm | 11-13 | 0.1-0.5T/H | 3kw | 2.6 |
| 1200A | 1200×200/1800×250×100±10mm | <30mm | 11-19 | 2-3T/H | 7.5kw | 5.5 |
| 1200B | 1200×180/1800×250×100±10mm | <30mm | 11-19 | 2-3T/H | 5.5kw | 5.5 |
| 1100A | 1100×200/1800×250×100±10mm | <30mm | 11-19 | 1-2T/H | 7.5kw | 5 |
| 1100B | 1100×180/1800×250×80±10mm | <30mm | 11-19 | 1-2T/H | 5.5kw | 5 |
| 1000 | 1000×200/1800×250×80±10mm | <30mm | 11-19 | 0.5-1T/H | 5.5kw | 4.5 |