Fracturing Proppant production line
Capacity: 10000-50000(t/a)
Main Materials: bauxite, manganese powder and additives
Main equipment: dryer, powder separator, granulator, rotary kiln, cooler, rotary screen
Introduction
Ceramic proppant, known as petroleum fracturing proppant, is one new type of material made from bauxite, manganese powder and additives by the process of crushing, drying, batching, pelletizing, calcining, cooling and sieving. Ceramsite proppant has the advantage of high strength, compression and abrasion resistance, good roundness, shock resistanceand good permeability resistance.
Process:
1. Crushing. The size of bauxite from mine is around 300~500mm, low moisture, After two-stage crushing which is composed by Jaw crusher and hammer crusher, the size of bauxite will be around 25mm.
2. Dosing. Bauxite, manganese powder, and other additional material will be transferred to belt conveyor through belt weigher to make sure the suitable proportion .If the moisture of bauxite or other material is more than 6% need to be drying at first .
3. Grinding. In grinding process ,the main equipment is ball mill and separator to make a close-circuit grinding system .The granulator required the material size will be lower than 300mesh .
4. Granulator. Raw material powder after grinding stored in hoppers .generally there have 2-3 hoppers, it can be discharged separately, also can be discharged with many hoppers collocation. Raw material powder will be transfer into a small silo, the silo has screw metering device or belt weigher .The material will be conveying to granulator, meanwhile the water will be spraying to granulator by pipeline pump. When granulator rotating, the raw material can be made into various particle size Raw ceramic sand will be transported to rotary sceen by belt conveyor, qualified sand will be calcined in rotary kiln, and the oversize will returns to raw material grinding process. The granulator system is totally automatic, continuously, matching with bag-type dust collector, can purification the exhaust air.
5. Calcining. Raw ceramic sand be calcined in rotary kiln , with the revolution and slope of rotary kiln, calcined ceramic sand move toward to the kiln head, meanwhile, pulverized coal spray into the kiln burner from kiln head, raw ceramic sand will be calcined into ceramic sand with high intensity in the rotary kiln.
6. Pulverized coal preparation. Pulverized coal preparation use ball mill or vertical mill, which can drying the coal with hot wind from kiln hoodsl. Use separator can adjust the fineness of pulverized coal at will; it provides sufficient conditions for full burning of pulverized coal.
7. Fineshed product cooling. The cooling of ceramic sand genergally use rotary cooler, it is simple and reliable when working, secondary air of cooler absolutely enter to the kiln, multi-channel burner, can save a lot of energy. The temperature of ceramic sand after cooler is very low, can be touched by hand.
8. Screening. Ceramic sand after the cooler can be directly transported to multistage vibrating screen, it can be divided into many particle grade according to requirements.
9.Packing. Ceramic sand after screening will be transported to different silos , the silos connected with packing machine , finished products will be transferred to storage house to prepare for delivery. All dust points in the process need match with dust collector to purification the exhaust air.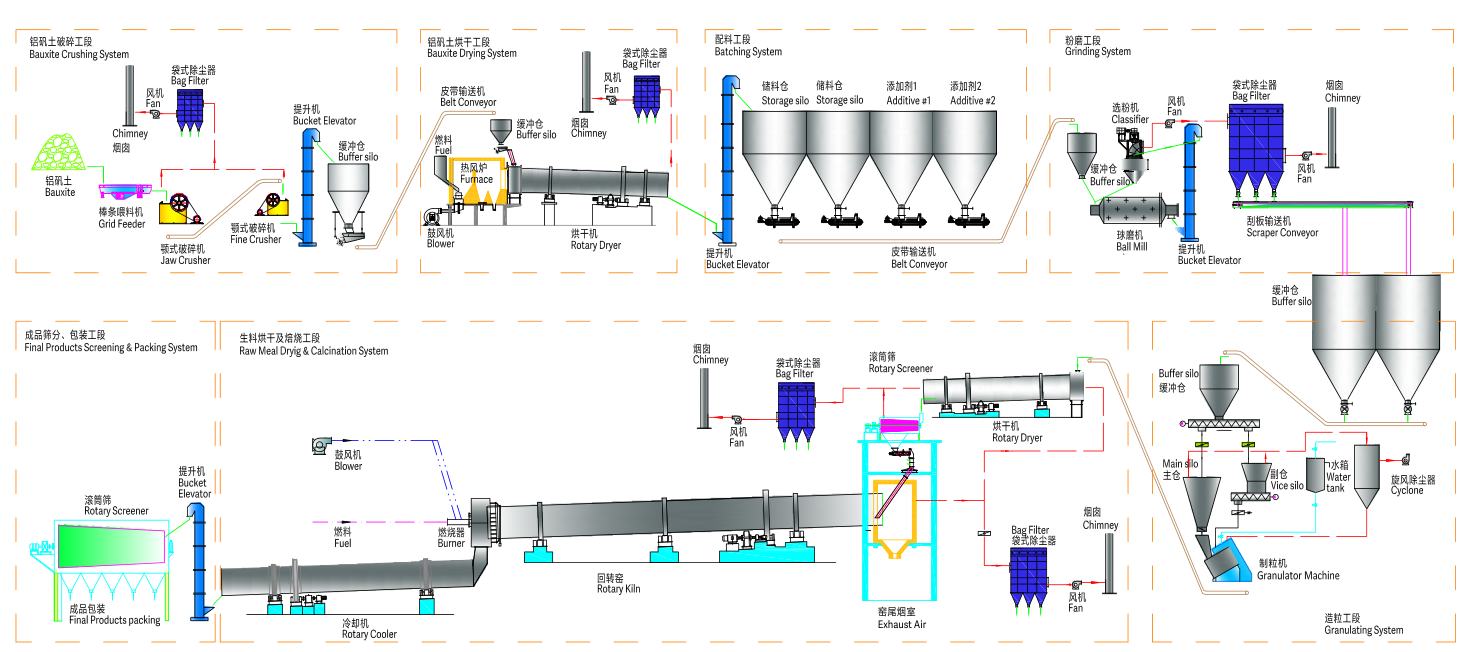 Advantages
1. Advanced Pelletizing System
The ZKZL granulator developed by our company is special equipment for pelletizing in the ceramic proppant production process, which has the advantages of high production efficiency, full automation control, and no dust pollution.
2. Complete Set of Granulation Experimental System
We owns a complete set of granulation experimental production line, which can conduct experiments on customers' incoming materials, find out the best granulation technology for the materials, and give guidance for actual production.
3. Environmental Protection
Two phases of dust collection including cyclone filter and bag filter, will control the dust emission below the limitation of the national standard.
4. High Degree of Automation
Rotary cooler at the discharge end of rotary kiln recycles the heat of Oil fracturing proppant which is discharged from the rotary kiln, and will preheat the secondary air up to 500℃.